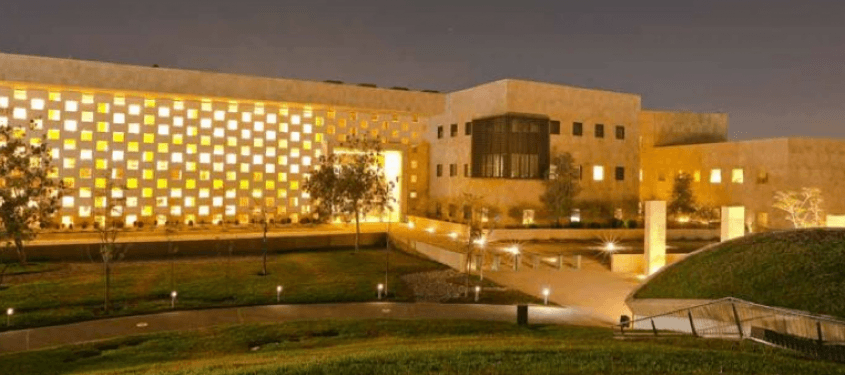 The Georgetown Building
The Georgetown community began the transition into the newly designed building in September 2010 and was fully operational by the start of January 2011. Construction for this new high profile building provided by Qatar Foundation under the direction of Her Highness Sheikha Moza bint Nasser, Chairperson of Qatar Foundation, began in 2008. The building is designed by the Architectural firm of Legorreta + Legorreta of Mexico with Langdon Wilson International from Los Angeles, California, U.S.A., as the Executive Architects.
The design of the new building reflects design elements from both the campus in Washington, DC, and from buildings in the Gulf Region.
The Georgetown Building was officially renamed the Humanitarium Building by Qatar Foundation in 2017. The new name, a combination of the words "humanities" and "atrium", a major architectural feature in the building's design, honors the Georgetown community's role in the study of the humanities.
Design Features
The Atrium
Designed to be a major gathering place for faculty, students and staff, as well as visitors, the Atrium is three-stories-high with skylights that allow natural light into the space. An area with dining tables and chairs sits adjacent to the dining services, and is separated from the other casual seating area with a distinct architectural water feature. The space is often converted for special events, and can accommodate a banquet seating capacity for 250 persons. The flags representing the different nationalities of the students enrolled at GU-Q are prominently displayed along one perimeter of the Commons.
The Auditorium
The Auditorium is the preferred venue for larger events, including but not limited to lectures, panel discussions, and artistic performances, with a seating capacity for 350 persons.
The Centre for International and Regional Studies (CIRS)
Designed to host international conferences and meetings with various local and foreign delegations, CIRS is located in an open courtyard within the academic wing. It contains a Conference/Meeting Room with custom-designed tables that form a circle to accommodate up to 40 participants.
Classrooms, Seminar Rooms, Lecture Room and Distance Learning Rooms
Forming one of the major design areas of the building, these rooms contain the latest in A/V equipment to be used for instructional purposes. The Distance Learning Room is equipped with "Telepresence" technology to allow for distance learning between Washington, DC, and Doha, as well as the rest of the world.
Library
The Library offers flexible spaces that encourage individual or collaborative reading, studying, and research, and houses an extensive collection of books and materials, as well as a variety of assistive technologies, research assistance, and skills training and support.
Open Areas, Water Features and Courtyards
The integration by the design architect of open courtyards and open spaces allows natural light to penetrate into the building's interior. The use of water features both in the interior and also at the exterior of the building contributes to the aesthetics and character of the building.