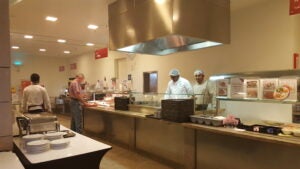 Georgetown University in Qatar offers a variety of dining services including a cafeteria, a café, and vending machines.
Dining Services Hours
Global Café: 8:00 am – 3:00 pm
Coffee Shop: Temporarily closed while a new vendor is selected, please visit the Global Café for additional offerings
Vending Machines: 24 hours
Global Café (GU-Q Cafeteria)
Global Café offers a breakfast, lunch, and afternoon cafeteria service in the Atrium of the Georgetown University in Qatar Building.
Food is currently available from Global Café for takeaway only. To order in advance, please call 4457-8376 or 7070-0426.
To help discourage waste, there is an additional charge for takeaway containers. Patrons who do not wish to pay for the takeaway containers but still want to use the takeaway service may bring in their own containers from home.
Meal Coupons
Vouchers for are available for purchase at the cafeteria for a charge of QAR 26. They may only be used at the Georgetown cafeteria and are valid for the full buffet which includes soup, salad, main course, sides, dessert, and a drink.
Note: Although the QAR 26 combo allows people to go back for seconds, they will not serve refills in takeaway containers. The all-you-can-eat buffet is intended for an onsite lunch meal.
Vending Machines
There are three vending machines located across from the library, under the stairs. The machines operate 24 hours a day and offer sodas, bottled water, hot drinks, and snacks. Please note that the machines require QAR 5 or QAR 10 notes. They do not provide change.