Stay Safe and Secure
The safety and security of our students, faculty, and staff is our number one priority. We have a dedicated team of security professionals on-site 24/7 and we maintain strict policies and procedures to help keep everyone safe on campus.
Identification on Campus
All students are issued a Georgetown ID card.  You must carry this ID along with your Qatar ID at all times while in Education City, as one or the other will be checked upon entrance to the campus, buildings, or parking lot. This card is also used for the Library and Printing on-site. Do not lend anyone your identification cards.  Immediately report the loss or theft of your card to the Security team.
First Aid at GU-Q
Whether you need treatment for a minor cut or bruise or you have an emergency that requires CPR or an automated external defibrillator (AED), there are dedicated responders in the building to come to your assistance. For help call the  24/7 security team number: 4457 8458.
Report incidents and accidents inside the building. 
Evacuation Routes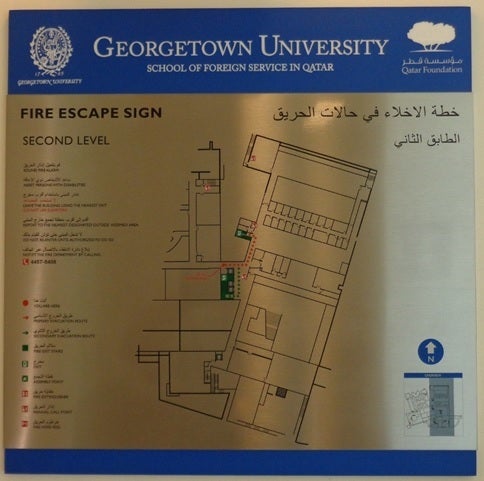 When you first enter the building, begin to familiarize yourself with the evacuation routes and exit doors. Fire escape signs (building evacuation maps) are posted throughout the building to direct the users towards the nearest EXIT in case of a fire alarm. For assisted evacuation click here.
Prevention of Gender Discrimination and Sexual Misconduct
Title IX of the Education Amendments of 1972 ("Title IX") prohibits discrimination based on sex in any educational programs, which includes sexual harassment or any acts of sexual misconduct. Title IX requires the University, upon becoming aware of any incident of sexual harassment and misconduct to respond appropriately to protect and maintain the safety of the University community, including students, faculty, and staff. For more information click here.
In the Event of a Building Alarm:
Evacuate the building immediately using the nearest exit route
Proceed to the assembly point
Follow directions from Fire Wardens
Do not use elevators
Do not stop to collect personal belongings
Do not re-enter the building until declared safe to do so
There are 3 Assembly Points for the GU-Q building. These are located at
Assembly Point 1: VIP/ Visitor Parking Area
Assembly Point 2: Adjacent to Folly area (Dean's Courtyard)
Assembly Point 3: Near Car Park 2 (Landscaped area)
Securing Valuables
Do not leave valuable items such as wallets, purses, mobile phones, or laptops unattended. Anything left for more than 15 minutes in the GU-Q building will be taken for safekeeping to Lost and Found.
Building Safety
The Building Operations Safety and Security team provide comprehensive building safety, security, and maintenance. Submit a request for maintenance or hazard support and learn more about our policies and standards.
Qatar Foundation Security
Qatar Foundation works with GU-Q Facilities Management to provide security services on campus. To report incidents outside of the GU-Q building please call QF on 4454 0999.
Road Safety in Education City
The speed limit in Education City is 40 kph on the roads and 10 kph in parking lots unless otherwise noted.  Speed is measured by electronic means throughout the campus.
Ensure that your vehicle is registered with QF security to facilitate entry to the campus and to park on-site.
Park only in designated areas.  Do not park in disabled parking spaces without a permit. Do not park on the main roads.
If you are involved in a traffic accident, do not move your vehicle. Call Security Control immediately at +974 4454 0999.  The police will be called so that an accident report can be produced for insurance purposes.
Staying Safe in Qatar and the Region
Qatar ranks among the safest countries in the world. However, in Doha, as in any major city, it is important to follow routine safety and security precautions. Learn more about current policies and standards in place to help you stay safe on campus and beyond. MoI safety guidelines.
Cover & Support During Major Emergencies
In the case of an emergency, the Emergency Response Team (ERT) is ready to respond as quickly as possible to help resolve issues. Learn more about how to manage crises and who to contact on the ERT calling tree to get the help you need in case of an incident.
Embassy Registration
All non-Qatari citizens are encouraged to register with their embassy. In addition, please make sure to update your personal information. If your phone number or family situation has changed, you should re-register with this new information.
International Travel Support
Georgetown University contracts with International SOS to provide worldwide medical, travel, and security assistance and evacuation services for all students, faculty and staff participating in University related international travel.  International SOS offers 24-hour emergency services, as well as online information on safety and security, public health issues, medical referrals, and vaccination requirements for individual countries. Learn more and register.