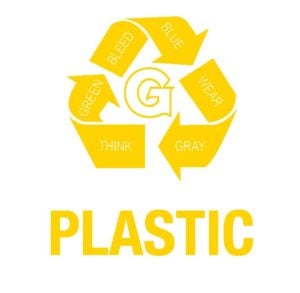 The Facilities Management team is proud to announce the launch and keep raising awareness of plastic recycling.
It seems like everything in modern world is made of plastic. The versatile material is in our cars, toys, packaging, clothing, home goods, food utensils, and so much more — but it's also littering our streets, clogging our waterways, and choking marine life. One study says 32% of plastic packaging ends up in our oceans every year.
Many plastics can be readily recycled, but according to National Geographic, 91% of plastic has never even been recycled. With all the different rules and symbols, it can be confusing for consumers to figure out exactly how to recycle it.
Tip! Plastics #1 and #2, made from polyethylene terephthalate (PETE) and high-density polyethylene (HDPE), are the most commonly accepted plastics for recycling
What can you put in our Plastic recycling bins at GU-Q?
Empty and rinse!
Clean Cuttlery
Clean Containers
Grocery Bags
Plastic Bottle
What you cannot put in our Plastic recycling bins at GU-Q?
Snack Bags
Plastic Wraps
Styrofoam
Sandwich Bags
Why they cannot go in?
Styrofoam: Foam polystyrene, like that found in meat packaging or egg cartons, is made of mostly air. A special machine is required to remove the air and condense the material into a patty or block for resale. These foam products have little value because once the air is removed, very little material remains.
Why Empty and Rinse:
Food residue is a form of contamination because food residue left on containers cannot be reliably processed.
Contamination is created when the wrong materials are put into the system or when the right materials are prepared in the wrong way.
What Happens to items dropped in our Recycled Plastic Bins?
The plastic is delivered to Doha Plastic, where it is then recycled locally and made into other plastic products. For more information, please visit the Doha Plastic website.
How Can you Reduce your Plastic Consumption?
Use your brand-new GU Sustainability water bottle instead of one-time plastic bottles
Use the water fountain instead of the water cooler
Use reusable cloth bags for your groceries and shopping
Buy fresh food ingredients – not pre-packaged. They are healthier too!
Don't take the straw when you order a drink
Reduce your waste in general – and reduce the number of trash bags you need
Ask the coffee shop to use your own travel mug, eliminating both the waste of a paper cup and a plastic lid
Stop using one-time items like sandwich bags – replace with reusable containers
How Can you Reuse your Plastic Before you Recycle it?
Use plastic grocery bags to line your trash cans or to transport items
Reuse plastic bags as packing material
Cut plastic milk jugs or detergent bottles to use as a scooper
Cut milk jugs and detergent bottles to make a funnel
Animal owners use all plastic bags to clean up after their pets
Sailors cut milk jugs or detergent bottles to use as water bailers
What Can you do with Plastic Waste from Home?
If you cannot reuse your plastic, bring it to GU-Q and recycle it here. Either place it in a recycling bin in the building, or if you have a large amount, drop it off in the main plastic recycling cage located near the loading dock.
Plastic Recycling Bin Locations
All Pantries
Atrium
Faculty Staff Lounge
Student Lounge
Student Study Area
Office Supply Room
Most Printer Station Locations